"Wreck-It Ralph, Wreck-It !"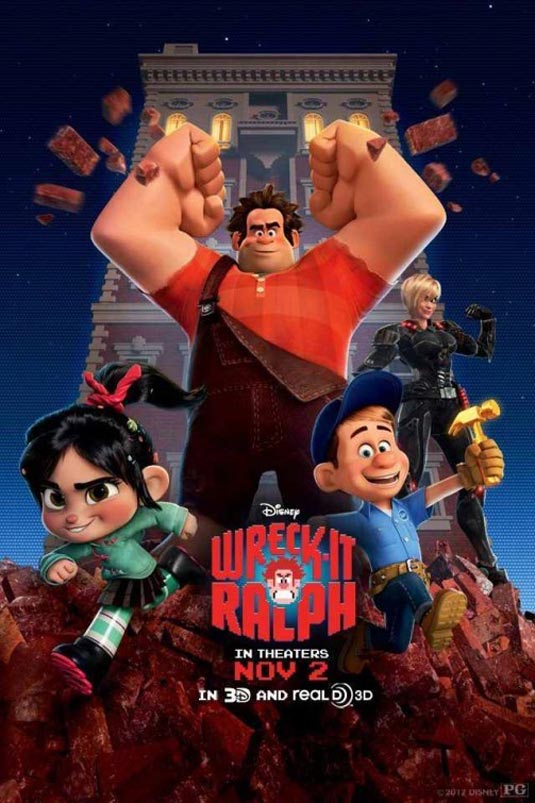 Wreck-It Ralph (2012).
Title :

Wreck-It Ralph




Language :

English




Duration :

101 mins




Genre :

Animation / Comedy / Family




Director :

Rich Moore




Cast :

John C.Reilly, Sarah Silverman, Jack McBrayer, and Jane Lynch
A video game villain wants to be a hero and sets out to fulfill his dream, but his quest brings havoc to the whole arcade where he lives.

(extracted from IMDB)
Verdict : I like this movie a lot ! like a lot due to the cuteness of the cartoon characters like the Vanellope from the Sugar Rush game. She is just so adorable to the max ! Okay as for the story, it was very interesting in a way that Wreck-It Ralph literally wrecking his way to other games to earn a medal just to be recognized and appreciated. He gone through everything just to be seen, to be part of everything, to be someone. Later in the movie, he started to see the how he could be a hero by helping Vanellope to be a racer !
It was seriously a very heart-warming cartoon that can literally put you in tears, especially the part where Wreck-It Ralph finally understands the idea of being recognized by just one person that is important to you, meant much more than being publicly recognized.
Despite of the heart-warming and emotional part, the animation was very cute to the max ! The Sugar Rush was literally a candyland that every kid would ever dream of having with candies all over the place. And they made it old video games look very classic too, by having a awkward way of walking especially the resident in Fix-It Felix game, it was like it got jam a bit. hahaha If I was given another chance to watch it, I would definitely watch it again and again !
Cute Vanellope from Sugar Rush !
(0 - Poor, 10 - Perfect)


Storyline : 7 / 10
Humor : 7 / 10
Animation : 8 / 10

•••••
Am I making it too slow-moo ?