Are you up for the epic battle between the Cullens and Volturi ?
The Twilight Saga : Breaking Dawn - Part 2 (2012).
Title :

The Twilight Saga : Breaking Dawn - Part 2




Language :

English




Duration :

115 mins




Genre :

Adventure / Fantasy




Director :

Bill Condon




Cast :

Kristen Stewart, Robert Pattinson and Taylor Lautner



After the birth of Renesmee, the Cullens gather other vampire clans in order to protect the child from a false allegation that puts the family in front of the Volturi.

(extracted from IMDB)
Verdict : Comparatively this Twilight was very humorous and entertaining compared to the emo ones earlier. There are a lot of funny dialogue and scene in the movie to keep you entertained throughout the 2hours movie. The part that flabbergasted me was Alice`s vision on the whole epic battle against the Volturi. I am telling you, the whole cinema literally clapped after that specific scene. Tell me you are not stun after watching it. hahaha
The movie wasnt emotional nor draggy, everything was pretty fast and all, but one thing that sort of disappointed me was seeing the amount of Volturi that came for the fight. The battle field was so effing big but yet the number of people was like only a handful. I was like WHAT ??!! I was expecting more like thousands people and all, filling up the whole battlefield, to create a more effect on the battle since its the very last battle. Other than that, everything was pretty decent, except one thing that kept me pondering was the whereabouts of the vampire who saw Bella`s letter to Renesmee.
As usual, Bella in the movie will always have the anxiety look on her face, like the sky is gonna fall down. Her eyebrows are forever frowning ! And as for Jacob, he is definitely either fixing or on the bic whenever he is emotional. Oh yeah, the part where Jacob was trying to convince Charlie on the transformation on his daughter was seriously quaint yet amusing ! hahaha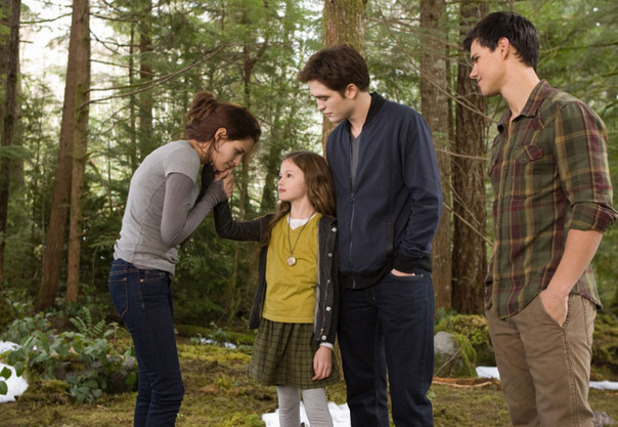 (0 - Poor, 10 - Perfect)


Storyline : 5 / 10
Adventure : 6 / 10
Humor : 7 / 10
I got Twilight Pillow to hug throughout the movie !
Yeayyy !!!
P.S. Epic battle was more of an epic joke ! LMAO
•••••