"Rain is coming... "
And this time he is flying a fighter jet with style !!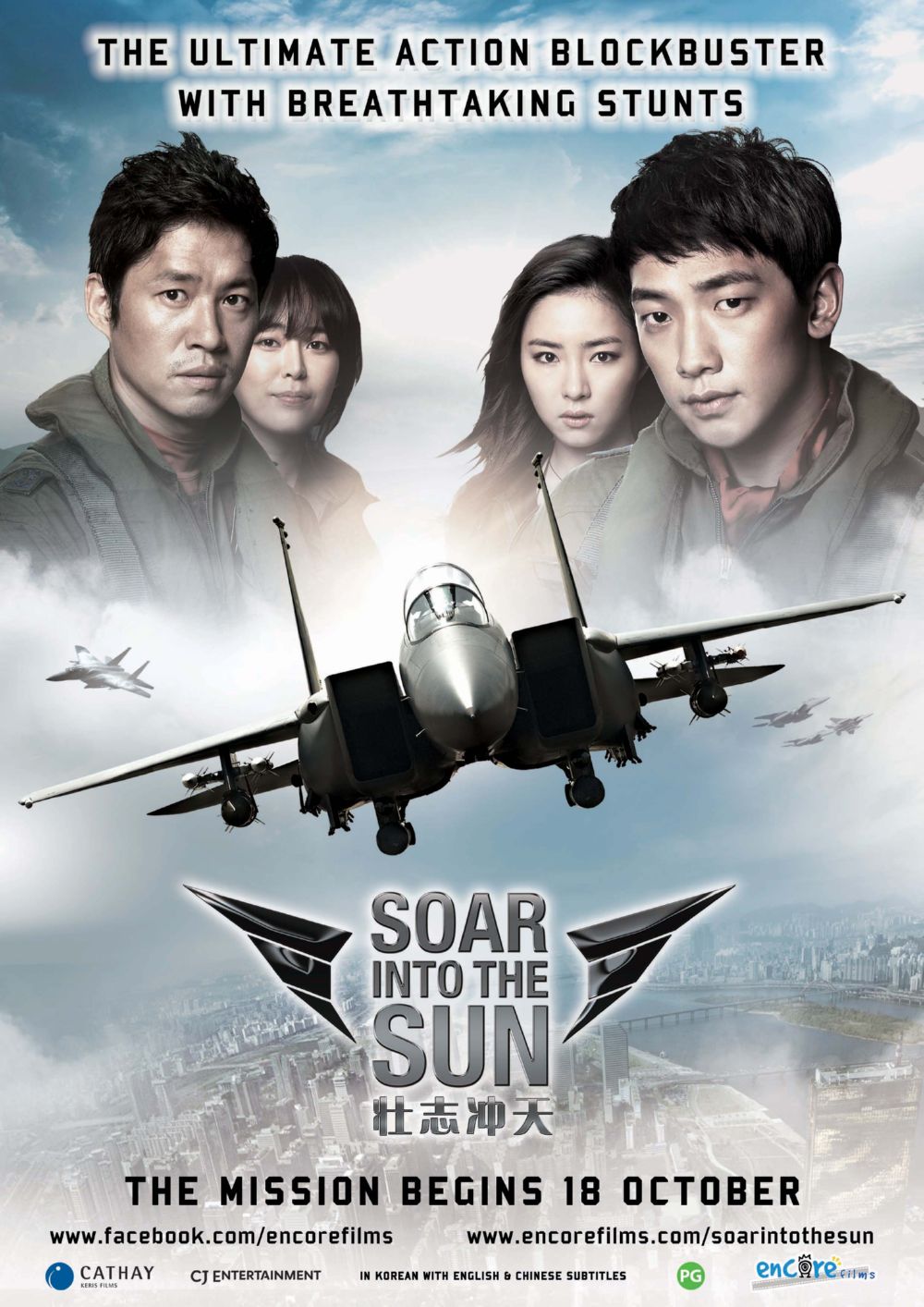 Title :

Soar Into The Sun




Language :

Korean (English Sub)




Duration :

113 mins




Genre :

Action / Drama




Director :

Dong-won Kim




Cast :

Rain, Joon-sang Yoo and Seong-su Kim



After he performs a dangerous dare-devil stunt at an air show, South Korean Air Force pilot Tae-hun is kicked out of the elite Black Eagles flying team and transferred to a combat unit where he immediately comes into conflict with ace pilot Cheol-hui. He makes friends with the other pilots in the unit and falls in love with the beautiful Se-young, who is in charge of maintenance. When a North Korean MIG fighter threatens, the group engages in a gripping dogfight that leaves one comrade dead and another missing. Cheol-hui and Tae-hun join forces to rescue their missing friend and prevent a catastrophic war.

(extracted from IMDB)
Verdict : It was quite a break-through for Korean movie to come out with fighter jets and all, cause usually they are all about love drama and so on. Congratz. However, I personally find the movie is lacking of action, the emotional and lovey dovey part was quite long. Even the action building up to the climax was not enough, cause they took down the enemy with just one or two shot, which is quite fast, not so much of a breath-taking moment tho. One thing I like is that they started the movie with a very dare-devil stunt which was done by Rain, aka the Zero Gravity Stunt. I am guessing there was only two part of the movie which there was breath-taking fight between the fighter jet which was the one with the death of the friend and the revenge, others was all dialogue and lovey-dovey part.
I am not sure that the subtitle translation is accurate or not, cause some part of the movie does make me feel like it comes out from no where, like the appearance of the bad guy, what is actually their purpose of taking over the North Korea base and what happened to them towards the end, wasnt not even talked about, kept me hanging just like that.
The duration for an action movie was just nice but maybe the lovey dovey part should be shorted and more breath-taking action with the fighter jet should be included to build up the climax of it. The first act of the movie which everything happy and so on, was too long indeed.
Cute looking Rain.
(0 - Poor, 10 - Perfect)


Storyline : 5 / 10
Action : 5 / 10
•••••
At last it`s here