All your legends coming together just for one purpose..

Just to bring you a jolly and innocent childhood !!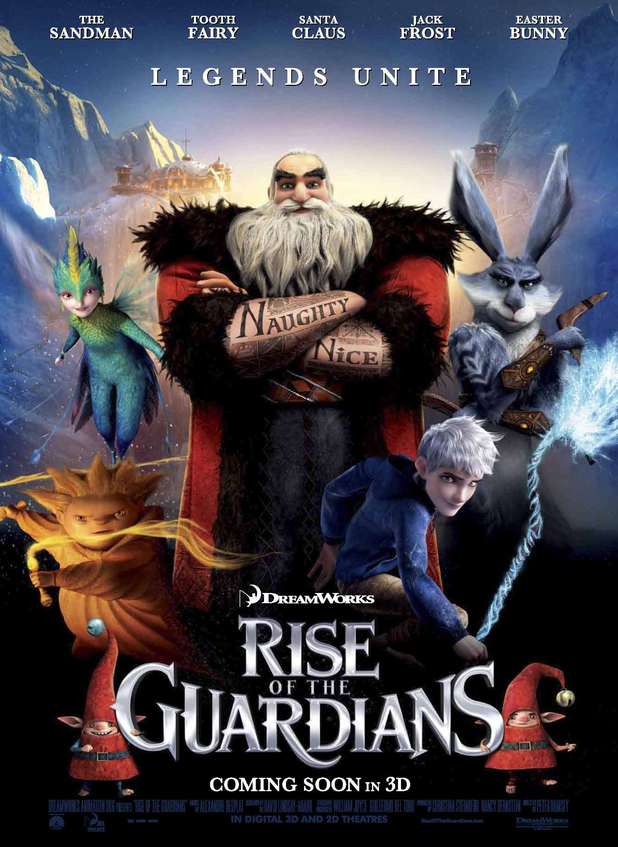 Title :

Rise of the Guardian




Language :

English




Duration :

97 mins




Genre :

Animation / Adventure




Director :

Peter Ramsey




Cast :

Chris Pine, Alec Baldwin, Jude Law, Isla Fisher and Hugh Jackman



When the evil spirit Pitch launches an assault on Earth, the Immortal Guardian team up to protect the innocent children all around the world.

(extracted from IMDB)
Verdict :
The movie comes in just on time for Christmas which is a month away from now. Its a very jolly and merry movie for children in believing fairy tales and all. The story was pretty adventurous with the Pitch trying to take over the children sweet dream with nightmare, right until the part Jack Frost has to find his own identity, it felt pretty lame to me, and yet he is selected as the Guardian. I was like huhhh ? Despite of the not so spectacular storyline, the action in the movie wasnt mind blowing enough, it was just so so and so so, not even the climax is un-astonishing. Maybe it was really meant for children, so thats why the fight werent very aggressive.
Anyway, the jokes and humor in the movies definitely kept the audience entertained and LOL in the cinema. Especially the part seeing all the Baby Tooth falling in love with Jack Frost`s pure white teeth ! hahaha
97 minutes for the movie is considerably short but somehow it felt like I have been watching for 2 hours. I am guessing its because of the uncomfortable seating and the 3D glasses.

>~<

Dont get me wrong with the 3D part, in fact the 3D rendering was comparatively awesome, you can feel sprinkle of snowflake right on your face !
Tony's Avengers Version of #RiseoftheGuardian, read more here. LMAO !
(0 - Poor, 10 - Perfect)


Storyline : 6 / 10
Adventure : 6 / 10
Humor : 8 / 10
P.S. TQ Nuffnang for the awesome animation.
•••••
Oh gosh, I am so lost
Have been reading and reading
Not sure where I am heading